COVID-19 Vaccine Q&A
Q&A Links
-Q&A about Infection Prevention
-Q&A about Symptoms,Tests and Diagnosis
-Q&A about Self-isolation and Close Contact
-Q&A about Vaccines and Side Effects
-Q&A about Border Measures
-Q&A about COVID-19 in Japanese
Vaccines
【Q1】What are the effectiveness of the COVID-19 vaccines approved in Japan?
The vaccines are effective in preventing the onset, infection and severe illness from COVID-19. Although the protection from infection and symptom onset may gradually decrease over time, it has been reported that the effectiveness in preventing serious symptoms remains comparatively high.
【Q2】 I had COVID-19 before. Should I still get the vaccine?
Yes, people infected with COVID-19 in the past can be vaccinated. At this point, two doses are given for primary vaccine series as usual.
【Q3】 Can I still get the vaccine if I am pregnant, breastfeeding, or planning to become pregnant?
Yes, you can get the vaccine. There have been no reports that the COVID-19 vaccines approved in Japan has any adverse effects on pregnancy, fetus, breast milk, or reproductive organs. Vaccination is recommended regardless of the time of pregnancy.
【Q4】 I have a chronic illness, can I get the vaccine?
Yes. Vaccination is recommended for people with pre-existing conditions and the elderly, as they are more susceptible to severe illness. If you have a strong side effects, please consult your family doctor as soon as possible.
Booster Shots (3rd Dose)
【Q5】Why do we need a booster shot?
COVID-19 vaccines are highly effective in preventing the onset of illness, but it has been suggested that their effectiveness in preventing infection gradually declines as time passes. From the perspective of preventing the spread of infection and the development of severe disease, it is recommended that all people who have completed their primary vaccination series will be offered a booster shot.
【Q6】How effective are the booster shot?
The booster shot has the effect of increasing the effectiveness of infection prevention, prevention of severe disease, etc. compared to the case where no booster shot is given.
【Q7】Can I still get a first dose even booster shot started?
The free COVID-19 vaccination program is scheduled to continue until September 30th 2022. Within this period, you can get your first dose.
【Q8】Who is eligible for the booster dose?
From the perspective of preventing the spread of COVID-19, it is desirable to provide booster shot who have completed the primary series (1st and 2nd doses). At this moment, Pfizer's vaccine is available to people aged 18 years and older who have completed the primary vaccination series.
Side Effects
【Q1】What kind of symptoms possibly cause as side effects?
Pain at the injected site, fever, tiredness, headache, muscle or joint pain, chills, diarrhea may cause.
According to the survey results conducted in Japan,
- Most of these symptoms became intense the day after vaccination and subside within a few days.
- The most common symptom is pain at the injected site. More than 80% of the vaccinated individuals experienced this symptom on the next day.
- Fever, tiredness, and headache are more intense in the 2nd dose than in the 1st.
- In some cases, the Takeda/Moderna vaccine cause delayed skin reactions at the injected site, such as itchiness, swelling and redness.
【Q2】What should I do if I have a fever or pain after vaccination?
Drink plenty of fluids, such as water for fever. And fever medicine and painkillers can be effective. (In the cohort study, various medicines such as Acetaminophen, Loxoprofen, Ibuprofen were used. These are available in pharmacies.)
【Q3】What should I do if I have a itchiness or redness after vaccination?
Cooling and applying antihistamines or steroids will help relieve the itching.
【Q4】Who is most likely to have side effects?
People with a history of allergies may have a slightly stronger side effects. Pain at the injection site, swelling, fever, headache, and fatigue are immune reactions.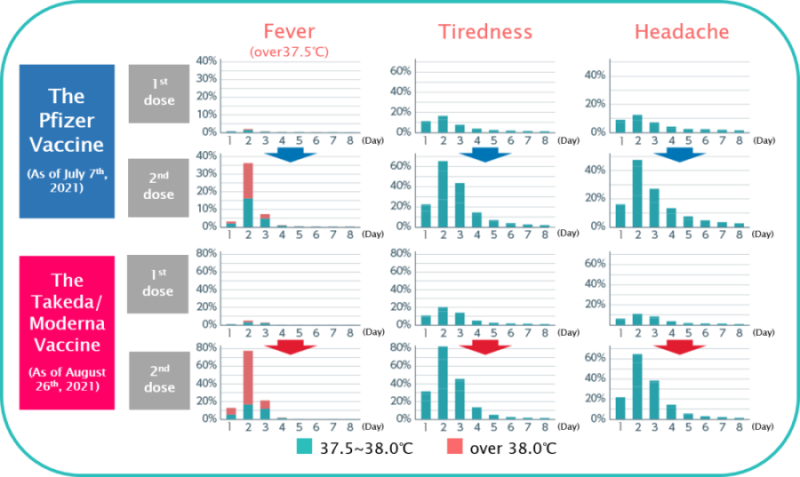 For Children (5 to 11 years old)
【Q1】Why is it recommended for children to receive the COVID-19 vaccine?
Children are as likely to be infected with COVID-19 as adults and can become very sick. Children with underlying medical conditions who may be at a higher risk for severe illness from COVID-19 are encouraged to get the vaccine. There are still concerns about new emerging variants including variants of concern (VOC), and variants under investigation (VUI), so the vaccination for children is recommended.
【Q2】How do children ages respond to the COVID-19 vaccine?
Based on clinical studies, children have positive neutralizing antibody response to COVID-19 vaccine and the vaccine has been shown to be effective against symptomatic COVID-19 with the Delta and earlier variants.
【Q3】Do children receive the same dosage of COVID-19 vaccine as adults?
The amount of active ingredients in COVID-19 vaccine for children is one-third of the vaccine for persons over 12 years. Children get two doses with three-week interval like adults.
【Q4】What are the adverse events after having COVID-19 vaccine for children?
Similar to adults and adolescents, adverse events such as pain at the injection site, fatigue, headache, fever, and so on are reported in children after receiving the vaccine but less frequently. Most of these adverse events are mild to moderate and no significant safety concerns have been identified.
Percentage
Symptoms
50%~
Sore arm from the injection, fatigue
10~50%
Headache,
Redness and swelling on the arm you got the shot, Muscle pain, Chills
1~10%
Diarrhea, Fever, Joint pain, Nausea
*Reactions and health impact events reported in days 0-7 after COVID-19 vaccination (either after first or second dose).
【Q5】Is there any specific item to bring, only for children's vaccination?
Children need to be accompanied by a parent or a guardian. Children, especially for preschool age group, are asked to bring their Maternal and Child Health Handbook during the day of vaccination, if possible. The Maternal and Child Health Handbooks record each children's inoculation history.
【Q6】What should children do if they turn 12 years of age in between the first and second doses?
The vaccine dose administered to children ages 5 to 11 is lower than the dose given to teenagers ages 12 and older. Children who turn 12 after their first dose will receive the same vaccine for their second dose.
【Q7】What precautions should parents take for the vaccination of their children?
The first few days after vaccination you need to watch for symptoms likely to be adverse events. Please continue to take basic infection control measures such as wearing surgical masks and so on, as vaccines are not 100% effective. Please DO NOT allow discrimination or bullying to occur in school life, because of being vaccinated or not getting vaccinated.
【Q8】Can children with underlying medical conditions get the vaccine?
Yes. Vaccination is recommended for children with underlying conditions as they are more at risk for severe illness from COVID-19.
References
MHLW Call Center (Toll Free)
-COVID-19:
0120-565-653
-COVID-19 Vaccines: 0120-761-770
English, Chinese, Korean, Portuguese and Spanish: 9:00-21:00、Thai: 9:00-18:00、Vietnamese: 10:00-19:00
*Everyday including weekends and holidays. This service cannot provide medical advice.
Local Call Centers
やさしいにほんご
/
English
/
Portuguese
/
Chinese(簡体)
/
Chinese(繁体)
/
Korean
Links