(6) Divorces
Regarding trends in divorces and divorce rates, divorces fluctuated around 70 thousands, and divorce rates between 0.7 and 0.8 during 1955-1964. After 1964, they gradually increased and reached 180,000 and 1.51, respectively, in 1983. After a period of decrease to 1988, they began to increase once again, but have demonstrated a downward trend in recent years. Values in 2006 were at 260,000 and 2.03, respectively (Figure 11).
Figure 11. Trends in divorces and divorce rates, 1955-2006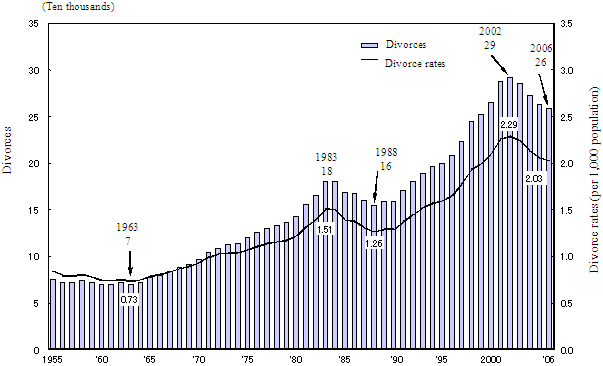 Observing the combined nationalities of wife and husband, according to the nationality of the wife, the percentages of Japanese husband were particularly high, excluding Peru (Table 7).
Table 7. Divorces and percent distribution by nationality of wife and husband, 2006
Nationality of
wife
Nationality of

husband

Total
Japan
Foreign countries
Total
Korea
China
Philippines
Thailand
U.S.A.
United
Kingdom
Brazil
Peru
Other
foreign
countries
Divorces (couples)
Total
258 778
254 086
4 692
1 390
1 027
112
44
407
84
150
113
1 365
Japan
243 762
240 373
3 389
927
499
105
39
393
84
98
73
1 171
Foreign countries
15 016
13 713
1 303
463
528
7
5
14
-
52
40
194
Korea
3 154
2 718
436
418
4
-
-
3
-
1
-
10
China
5 280
4 728
552
21
521
1
-
2
-
2
3
2
Philippines
4 100
4 065
35
11
1
5
1
4
-
6
3
4
Thailand
885
867
18
3
-
-
2
1
-
7
-
5
U.S.A.
65
60
5
-
-
-
1
1
-
1
-
2
United
Kingdom
27
27
-
-
-
-
-
-
-
-
-
-
Brazil
119
90
29
-
-
-
-
1
-
19
2
7
Peru
100
59
41
-
-
-
-
-
-
11
22
8
Other foreign
countries
1 286
1 099
187
10
2
1
1
2
-
5
10
156
Percent distribution of husband's nationality by nationality of wife (%)
Total
100.0
98.2
1.8
0.5
0.4
0.0
0.0
0.2
0.0
0.1
0.0
0.5
Japan
100.0
98.6
1.4
0.4
0.2
0.0
0.0
0.2
0.0
0.0
0.0
0.5
Foreign countries
100.0
91.3
8.7
3.1
3.5
0.0
0.0
0.1
-
0.3
0.3
1.3
Korea
100.0
86.2
13.8
13.3
0.1
-
-
0.1
-
0.0
-
0.3
China
100.0
89.5
10.5
0.4
9.9
0.0
-
0.0
-
0.0
0.1
0.0
Philippines
100.0
99.1
0.9
0.3
0.0
0.1
0.0
0.1
-
0.1
0.1
0.1
Thailand
100.0
98.0
2.0
0.3
-
-
0.2
0.1
-
0.8
-
0.6
U.S.A.
100.0
92.3
7.7
-
-
-
1.5
1.5
-
1.5
-
3.1
UK
100.0
100.0
-
-
-
-
-
-
-
-
-
-
Brazil
100.0
75.6
24.4
-
-
-
-
0.8
-
16.0
1.7
5.9
Peru
100.0
59.0
41.0
-
-
-
-
-
-
11.0
22.0
8.0
Other foreign
countries
100.0
85.5
14.5
0.8
0.2
0.1
0.1
0.2
-
0.4
0.8
12.1