Index / Back / Next
---
Section 4. Restructuring of Government Ministries and Agencies
1. Past History


In November of 1996, the Administrative Reform Council was established headed by the Prime Minister and consisting of fifteen persons concerned. The council studied possible reforms of government ministries and agencies and a final report was given on December 3, 1997.


In the final report, national functions were categorized into four areas; "Continuance of the Nation", "Securing and expanding of national wealth", "Security and improvement of living conditions", and "Succession and maturing of education and national culture". Based on this and the recognition of the improvement of living conditions and welfare in the aged society with fewer children as the major administrative issue in the 21st century, the reports concluded that the central ministerial organizations are to be structured by administrative function and purpose. The Ministry of Health and Welfare is expected to be integrated with the Ministry of Labor to form a new ministry that serves for the improvement and promotion of social security, etc.


To follow this final report, the Draft Basic Law for Government Ministries and Agencies Reform was submitted to the 142nd ordinary diet session in February of 1998. The law was published and enforced on June 12th of the same year. Based upon this, the Headquarters for Promoting the Reform of Government Ministries and Agencies headed by the Prime Minister was established in the 23rd in the same month. The Headquarter aims at promoting a concentrated integral reform of the government ministries and agencies specified in the Basic Law and then a shift to the new administrative system in January of 2001.


The Headquarters for Promoting the Reform of Government Ministries and Agencies decided on January 26 of 1999 the Major Platform regarding the Reform of Government Ministries and Agencies. It shows: 1 bills required for the reinforcement of cabinet functions and the reorganization of the nation's administrative agencies, and 2 overview of basic plan required for the promotion of slimed and effective administrative organizations.


On April 27th of 1999, the Headquarter decided seventeen bills related to the Reform of Government Ministries and Agencies including bills for amending part of the Cabinet Law, bills for the establishment of new organizations and draft general rules for the independent administrative agencies, etc. Also decided was the Policy on the Promotion of the Reform of Government Ministries and Agencies that specifies the promotion of slimed and effective administrative organizations. The drafts were submitted to the 145th ordinary diet session the next day.


2. Reform of Government Ministries and Agencies and Welfare Administration


(1) Names and functions of new ministries


The bylaw of the Basic Law on the Reform of Government Ministries and Agencies specifies that it should not be obstructed to study the name of any new ministry so that the name properly represents the functions of the ministry. According to the specification, the name of the new ministry was decided to be the Ministry of Labor and Welfare that consolidates the Ministry of Health and Welfare and the Ministry of Labor.


Figure 7-4-1. New Structure of Ministries and Agencies (Draft)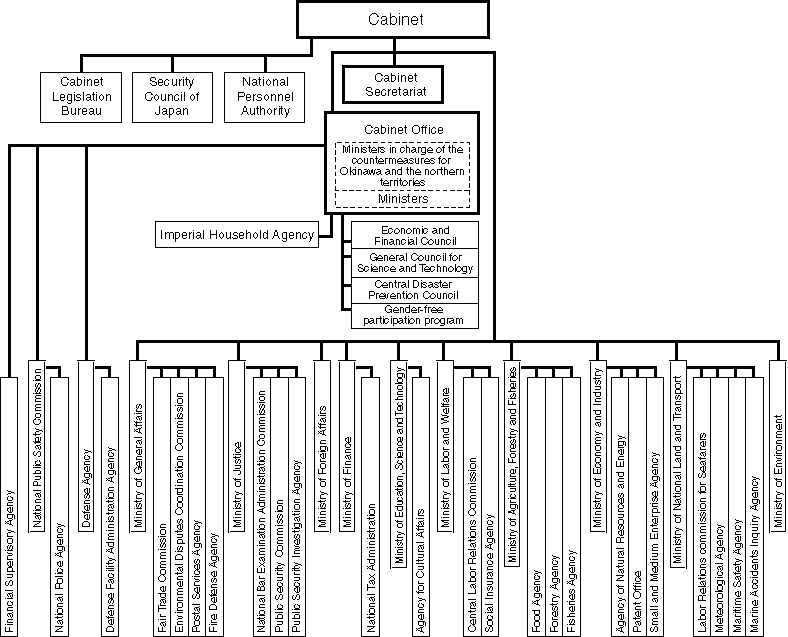 The bill for the establishment of the Ministry of Labor and Welfare specifies that the functions of the Ministry are: 1) to ensure the security and improvement of people's living; and 2) to ensure the improvement and promotion of the social welfare, social security, and public health, and the improvement of working environment including working conditions for laborers and the securing of employment in order to contribute to economic development. Also specified are: 1) to aid the repatriated, wounded and sick retired soldiers, war bereaved, and the families of non-repatriated people; and 2) to clear the remaining job of the former army and navy.

(2) Slimed and effective national organizations

The number of departments in the Ministry of Labor and Welfare is decided to be eleven bureaus in one secretariat by the promotion manager of the reform of government ministries and agencies on November 20, 1998. The Policy on the Promotion of the Reform of Government Ministries and Agencies states that the twenty-two councils, etc. currently placed under the Ministry of Health and Welfare shall be consolidated into eight by integrating the functions that deliberate basic policies into the Social Security Council and the Health Science Council. The policy also states that local bureaus shall also be slimed and streamlined by consolidating a regional medical affairs office and a regional narcotics control office into a regional welfare bureau. Regional welfare bureaus will assume part of the clerical work of the Ministry of Health and Welfare such as the supervision of medical care and medical affairs and the direction of the health insurance societies and the Employees' Pension Fund.

The policy also promotes the devolution to private sectors and local institutions as well as the abolishment and consolidation of national facilities and other agencies excluding those that are essential for the nation. Some may be shifted to independent administrative corporations (corporations of independent juridical persons that engage in businesses related to public services). Thus the National Institute of Health Services Management and the Institute of Public Health are to be consolidated. The National Institute of Health and Nutrition is to be shifted to an independent administrative corporation in April of 2001. The reorganization of national hospitals and sanatoria shall be further promoted according to its reorganization plan reviewed in March of 1999 while they shall be shifted to independent administrative corporations in 2004 except for the advanced and specialized medical care centers and the National Institute of Leprosy Research. All these shall be carried out so as not to inhibit close association between institutes that engage in national medical care services (policy-based medical services).

---
Index / Back / Next